Programme of events for 2013
Lectures, unless otherwise stated, are held at the Nottingham Mechanics, 3 North Sherwood Street, NOTTINGHAM NG1 4EZ at 2.45 pm. This venue is fully accessible and has facilities for disabled people. A bookstall is available from 2.15 pm.
Saturday 12 January
Nora Witham Lecture: 500 years of Nottingham High Street - Michael Bolton, School Governor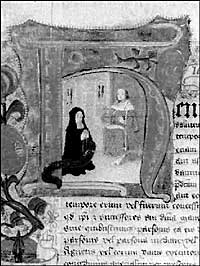 Illustration from school's original charter of 1513.
Just four years after he ascended the throne a young King Henry VIII was asked by his friend Sir Thomas Lovell, Chancellor, Keeper of his Purse, and Guardian of Nottingham Castle, to grant the recently widowed Agnes Mellers the right to run a 'Free School' in Nottingham. So started a school in 1513 that has produced more MPs in recent times than Eton.
Nottingham High School celebrates its 500th anniversary during this academic year – a long history of progress through the Civil War, the World Wars, and its transitions from 'Free' to 'Public' status. It was founded 164 years before Robert Thoroton produced his History of Nottinghamshire, and the school even has an original copy in its Reference Library.
The School moved from the original Stoney Street site to its present location on Forest Road about 150 years ago. Over the years it has played a major part in the education of many of England's finest entrepreneurs, businessmen and politicians; including Jesse Boot and five Cabinet Members of the past two Governments.
Michael Bolton is one of four generations across nine members of his family to be educated at the school over the past 80 years. He has been Chairman of the Friends of the School in the 1990s, President of the Old Nottinghamians' Society in 1994/5, and a School Governor since 1999. He has been Chairman of the Governors' School Committee for the past seven years. His talk will touch on some of the highlights of the School's past 500 years.
The illustration is a corner detail from the School's original Charter, signed by Henry VIII, and showing Dame Agnes pleading with Sir Thomas Lovell, within the initial 'h' of Henry's gold illuminated name. The original charter is on display as part of an exhibition about the school at the Weston Gallery, Lakeside Pavilion which is open until 13 January, and all are most welcome to visit before then.
Saturday 9 February
Myles Thoroton Hildyard Lecture: Lost churches and chapels of Nottinghamshire - John Beckett and Howard Fisher, Thoroton Society

LEFT: The Baptist chapel in Keyworth had only been open a few weeks when the Religious Census was taken in 1851. It was in existence for about 30 years. The building was then converted into a framework knitter's workshop, shown here in the 1950s. RIGHT: The building as it is today, a domestic garage. The only evidence of its former use is that the doorstep remains!
Thorotonians are inveterate church visitors! But just how many churches and chapels are there in our county, and where are they? Perhaps just as importantly, how many have been demolished or converted for purposes other than Christian worship? John Beckett and Howard Fisher are preparing a gazetteer of lost churches and chapels in the county for a forthcoming volume in the Thoroton Society's Record series.
This lecture will provide a taster, looking at the spread of churches and chapels across the county both today and in the past, and asking questions about the buildings themselves as well as – particularly in the case of lost chapels – where the funding came from, and what has happened to the many Methodist chapels built in our county's villages during the Victorian period.
Researching lost chapels, in particular, has thrown up many anomalies, and the final part of the lecture will be interactive, when the audience will have a chance to tell the speakers which chapels they have failed to spot!
John Beckett is Chairman of the Thoroton Society and Howard Fisher is editor of the Newsletter and a member of Council.
Saturday 9 March
Maurice Barley Lecture: Pevsner in Nottinghamshire: A Buildings of England experiment - Elizabeth Williamson, Executive Editor, Victoria County History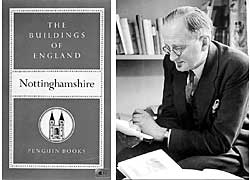 LEFT: Cover of the first edition. RIGHT: Nicholas Pevsner in the 1950s.
Nottinghamshire is the Buildings of England volume most often illustrated when brief histories of the series are produced. Its brown and white cover, with a roundel of the west front of Southwell Minster drawn by Bertold Wolpe, has come to symbolize the original series. With Cornwall and Middlesex, Nottinghamshire was one of the first three volumes to be published. But why was Nottinghamshire chosen?
In this talk, Elizabeth Williamson, who revised Pevsner's Buildings of England: Nottinghamshire, will explore how Pevsner tackled this experimental volume, how his background as an art historian and foreign émigré informed his task, and how approaches to writing about the county's architecture have changed since 1951 when the first edition was published.
Elizabeth Williamson is a Reader in Architectural History and Executive Editor of the Victoria County History, one of the Research Centres of the Institute of Historical Research, University of London. She was previously Deputy Editor of The Buildings of England, Ireland, Scotland and Wales. Elizabeth can be contacted by email at elizabeth.williamson@sas.ac.uk.
Saturday 27 April*
Spring Meeting & AGM at Ravenshead Village Hall
Saturday 11 May
Excursion: Brodsworth Hall and Rotherham Minster - led by Alan Langton
Brodsworth Hall was built as a family 'home' by the Victorian gentleman Charles Sabine Augustus Thelluson. Over the years the family members have made many alterations to the interior, and the appearance has become increasingly faded and worn. English Heritage has preserved this faded glory in order for visitors to reminisce about what this country house originally looked like. The excursion includes a tour of the house, lunch in the tea rooms and a chance to tour the gardens. On the way back we shall call at Rotherham Minster, a Perpendicular Gothic parish church. The interior is full of colour and the original famous roof bosses are well restored, leading to an immense 1420 fan vault under the tower. The stalls have charming poppyheads of the Wise Men. Tea will be provided for us before we return.
Saturday 15 June
Excursion: Ashfield Heritage Trail - led by Ceril and Derek Little
With the expert guidance of Denis Hill, Heritage and Development Officer for Ashfield District Council, we shall visit, among other sites, Annesley Old Church, Jacksdale early industrial tramway, historic sites in Kirkby in Ashfield, Skegby and Teversal, Kings Mill reservoir at Sutton in Ashfield, Selston Parish Church with its Druid stone and grave of an 18th century gypsy king, and many more. There will be breaks for morning coffee, buffet lunch and afternoon tea.
Thursday 18 July
Special lecture at Newark Town Hall (starts 7.30pm) - Michael Wood, broadcaster and historian
There will be a charge for this event.
Michael Wood is probably the best known documentary film maker working today, at least if we exclude David Attenborough! Michael has made well over 100 documentaries for both British and USA television, covering a vast range of subjects including Domesday, Shakespeare, the Conquistadores and the Story of India. In 2010 his Story of England was transmitted to great acclaim. Based on Kibworth, Leicestershire, it traced the history of the parish from its earliest times. In 2012, as part of the Queen's Diamond Jubilee celebrations, he produced the eight-part Great British Story shown on BBC television. Michael has filmed on many occasions at Laxton, Nottinghamshire. We have now invited Michael to present a Special Lecture at Newark Town Hall covering both of these locations. The evening will provide an opportunity to meet Michael and other members of the Society in relaxed surroundings. There is a charge for this evening event, which will include a glass of wine and light refreshments.
Thursday 8 August
Excursion: Little Moreton Hall and St Giles' Church, Cheadle - led by Alan Langton
Little Moreton Hall has been described as one of the finest examples of a 16th century timber-framed moated manor houses in England. The wealth of the de Lostock family is displayed in the ornamental decoration and in the quality of glass used in the Hall. Of particular note is the fine Long Gallery and some beautifully painted 16th century panels in the parlour. We have a tour booked here, followed by lunch. From Moreton Hall we will return to Nottingham via Cheadle, where Saint Giles church is one of Pugin's finest masterpieces. After a tour here, we will have tea in the town..
Tuesday 10 September
Excursion: Welbeck Abbey State Rooms - led by Alan Langton
The Thoroton Society has been allocated two tours, one at 10.30 a.m. and one at 2.00 p.m., each tour with a maximum of twenty people, so numbers will be limited. Transport will have to be provided by own cars, and the tours will last approximately one and a half hours. As well as seeing the Portland Collections in the State Rooms, the tour will include the chapel and the horsemanship rooms. It will not include the underground ballroom or the tunnels.
Saturday 12 October
Archaeology Lecture: The Nottingham Caves Project - David Strange-Walker, Project Manager, Trent & Peak Archaeology
Saturday 2 November*
Annual Luncheon at Kelham Hall, Newark
Saturday 9 November
Nottinghamshire History Lecture: The ties that bind: the emotional landscape of Sir Thomas Parkyns of Bunny - Lizbeth Powell, Nottingham Trent University
Tuesday 12 November
Keith Train Lecture in association with Nottingham Civic Society: Even more Georgian townhouses - Pete Smith, Independent Architectural Historian
Venue: Cathedral Hall, Wellington Circus, at 7.30 pm
Saturday 14 December
Neville Hoskins Lecture: Emma and Edward: the Wilmots and their world - Richard Gaunt, University of Nottingham
Further details of events marked * will be announced in the Newsletter and on the website.