Events and excursions, Autumn 2006
9 September: Excursion to North Leicestershire and South Nottinghamshire Churches
A pleasant journey through the south Nottinghamshire and north Leicestershire countryside in autumnal sunshine brought us to the rather isolated Stapleford Church, situated on the estate which originated at the time of the Norman Conquest, although the church dates from only 1873. We were met by Mr John Plumb, who gave a knowledgeable introduction to the fascinating history of this fine church, with its impressive western gallery and monuments, which is now in the good care of the Churches Conservation Trust. We then visited St Mary's Church Melton Mowbray [pictured right], dating from the 13th century, which is more a mini‑cathedral than a parish church. Here John Plumb gave us another lively and interesting talk, and we were able to admired the fine clerestory windows and Galilee porch.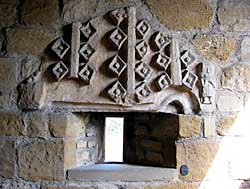 After lunch Mr Robert Jones, a very knowledgeable student of St Luke's church and the village of Broughton Solney, took us on a tour beginning at the churchyard, with a view of the former village layout, followed by a walk past unusual gravestones. The church porch at St Luke's [pictured left] has an intriguing piece of carved stonework which defies explanation, and the church and tower contain significant remnants of Norman and medieval stonework.
A splendid Thoroton Tea was served and much enjoyed in Granby village hall, after which Mrs Brenda Preece introduced us to All Saints church with its massive tower, its 600 year old door, and its fourteen benches with their quaintly carved heads of almost mythical creatures. Alan Langton
21 October: 'Geo-archaeology in the Trent Valley using new technology to investigate the buried past' – Keith Challis
Keith Challis, who has recently taken on the mantle of the Society's Archaeology Editor, gave an excellent and very accessible lecture on a subject that may have appeared from its title to be specialised and possibly incomprehensible to the lay-person. In fact, his presentation gave members a very clear understanding of the latest techniques, some extremely high-tech, which archaeologists use to gain a greater understanding of landscape changes and human land use.
Keith went on to explain 'airborne alternatives to muddy boots', ranging from the well-established air photography to the very sophisticated Lidar, which is used to determine deposit character and preservation, and which gives spectacular detail of buried features. He also gave a broad picture of techniques used to explore underground archaeology. Using a combination of techniques, archaeologists are able to demonstrate more and more of the rich, but largely invisible, history of the Trent Valley.
Keith [pictured] is Remote Sensing Manager in the HP Vista Centre at Birmingham University's School of Archaeology, and coordinates the Masters Degree in landscape archaeology and geomatics. He is involved in a number of research projects relating to alluvial archaeology and remote sensing in Britain, mainly in the Trent Valley. He is also involved in projects in the Near East, and is running the ongoing survey of Laxton Castle with Sarah Speight. Barbara Cast