Events and excursions, Autumn 2011
Excursion to Stamford, Saturday 17 September 2011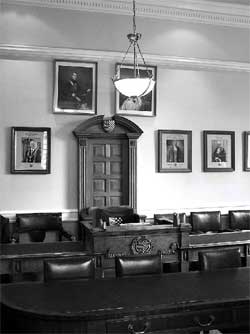 The Stamford Council Chamber.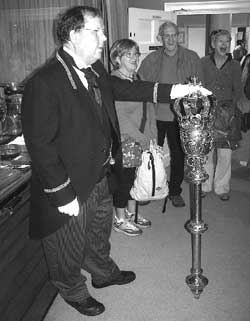 Members enjoying the presentation by the guides.
Heavy rain in the early morning greeted members setting out to catch the coach to Stamford. However, true to Thoroton custom during our journey the sun came out and continued to stay with us throughout the day.
Surprisingly only eighteen members opted to go on this excursion: it was a select group, but I would be interested to know why we were only able to half fill the coach on this occasion; were too many people away on holiday? Was Stamford not a popular place to visit? Or had Thoroton members 'done' Stamford thoroughly already? Is an excursion in September NOT a good idea? Let me know any thoughts please.
Anyway, those members who went on the trip had an excellent day, starting with coffee at the Crown Hotel, followed by a two hour tour of the Town Hall, which had been specially opened for us on a Saturday. This tour was lead by Mr. Mark Murtagh, the administrator, and Ian his assistant, who allowed us to view thoroughly the mayor's parlour with a collection of very old charters of the town and all the regalia and presentation gifts which Stamford has accumulated over the years.
We explored what used to be the court house as well as the dungeons. Our two guides kept us interested and amused by the anecdotal presentation of their knowledge.
After some free time for lunch, we were privileged to meet an excellent Blue Badge guide, Jill Collinge, who took us around Stamford, especially the Georgian areas, explaining the history and significance of many buildings and features which we could so easily not have realized were there. Jill's own knowledge and her explanation of many customs and words associated with Stamford's history made our tour most enjoyable and fascinating.
The afternoon ended with an adequate and enjoyable tea provided for us in the tea-room of the Stamford Museum and Information Centre; by chance, the owner had lived in Nottingham some years ago, and he enjoyed reminiscing about places he remembered.

Alan Langton
The October Lecture: Ursula Spence on Roman Artefacts At Southwell
In an excellent and thought-provoking lecture, Ursilla Spence, Senior Archaeologist for Nottinghamshire County Council, illustrated the many facets of Southwell's history, especially that recently revealed at the Church Street site and also through various archaeological investigations and surveys of the past. It was clear from the lecture that this is a town rich in history, including its distinguished ecclesiastical record but also its early, less acknowledged and understood past.
Ursilla set out what could be deduced at this stage from the significant and almost certainly unique Roman remains found on the site of the former minster School. But she also explained how previous work undertaken on this site had revealed information about its Saxon period. In particular the many burials which gave information about the development of Christianity in the town.
It was clear from Ursilla's talk that this exciting site could reveal much more. There are many questions still to be answered - what exactly was happening in the Roman period? Was it the headquarters of an important Roman general or a client king? Is it the water-feature of all water-features? What about continuity leading eventually to the founding of the Minster? And does the position of the over two hundred early Christian burials recorded so carefully by Bob Alvey suggest where a pre-Minster church may have lain? Then there is the thorny question of where such things as tessellated pavements and bodies disappeared to during the 50s and 60s.
We are very grateful to Ursilla for this insightful lecture on Southwell's early history -we look forward to reading more in the Transactions in the future.
Barbara Cast

The Trent Vale Landscape Project Church Art Taster Day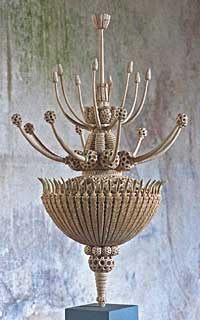 Sculpture by Alexis Rego in Low Marnham church (photo: Howard Fisher).
Friday, 16 September 2011 was the date for the second Trent Vale Landscape Project church art taster day. The first was held earlier in the year at Morton, Lincolnshire and was as well attended as this second event in Nottinghamshire. The Project covers the Trent valley up to three miles on both sides of the river.
The day was conducted by Jason Morden the Nottinghamshire County Council Conservation Officer and the event took place at Low Marnham church and church rooms. The idea of the day was to give attendees presentations by six artists working in a church environment or inspired by churches in some manner.
The first presentation, however, was by Jason himself who guided the attendees round the church, explaining the structure and meaning of the elements of the building. Low Marnham is a redundant church in the care of the Churches Conservation Trust although there are still four services a year held in the building. Jason explained the church's dedication to St Wilfred, a saint contemporary with Bede and suggested some further reading to enable a better understanding of church structures.
The Church Conservation Trust gave a presentation about their work and showed slides of some of their buildings around the country.
Elizabeth Jones then explained the work of the Southwell and Nottingham Church History Project, linked with the Open Churches project and explained how people could volunteer to contribute to the ongoing work in ensuring every Nottinghamshire church has an entry on the web site.
Elizabeth was followed by Dr John Lord of Lincoln who took the audience through over 2,000 years of church art in about half an hour. His well illustrated talk was most interesting and thought provoking.
After lunch the artists gave presentations.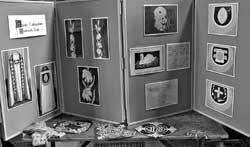 Jane Drummond showed work from the Lincoln Cathedral Embroiderers' Guild and explained some of the techniques used in their work. She was followed by a stone mason, Jerome Budor who showed the various types of stone used and explained something of the geology and the problems associated with working that particular type of stone. He showed tools and techniques and had a display of work undertaken. Alexis Rago then discussed photography using pin-hole cameras and his work in producing installations involving sculpture, photography, sound-art and video exploring questions of ritual, humour and uncertainty inspired by particular church settings. He had presented some of his images and wonderful sculptures in the church (see front cover).
Derek Hunt gave a presentation of his work as an architectural glass artist working in stained glass for churches and public art concerns. He is an accredited conservationist.
He showed us work on traditional pieces and also modern work pushing forward the boundaries of what can be achieved in a modern context. His work is truly inspiring.
Claire White is a painter but works with multi-media, often cutting up her paintings to incorporate them into other work. She is inspired by church architecture and fittings. Her paintings were bright, full of colour and made the writer smile with happiness on looking at them. The final artist was Karen Slade who works as a tile maker. Karen had started her interest over 20 years ago as a consequence to her interest in Tudor reconstruction activities. She has worked with traditional medieval materials and firing. She showed techniques and many examples of her fine tiles.
The day was intended to perhaps provide follow-on activities with the artists providing sessions to enable people to start to explore methods and materials.

The Annual Luncheon, 2011
By Barbara Cast
If you missed the annual lunch this year, you missed a really outstanding event. As well as being held in the most attractive surroundings of The Hemsley at the University of Nottingham, we were served a very good lunch by helpful and friendly staff. For many of the guests, The Hemsley was well known as the old Staff Club for the University, now somewhat smartened for its new role, but still retaining the attractive features of the former house, including some lovely windows.
Apart from the actual meal, there were at least three highlights of the day.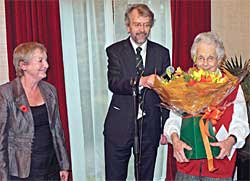 Our President, Dr. Rosalys Coope, being invited to say a few words by Chairman John Beckett after being presented with lovely flowers by Secretary, Barbara Cast (Photo: Howard Fisher).
Firstly we celebrated the forthcoming ninetieth birthday of our President, Dr. Rosalys Coope, by presenting her with an appropriate birthday card and a beautiful bouquet of orange and yellow roses and lilies. Then a surprise for Rosalys; as members will be aware, she has contributed a number of articles to the Transactions over the years on her main topic of research, Newstead Abbey. Over recent months, discussions have been ongoing, behind Rosalys' back, to bring together these articles, and any other pieces of research Rosalys may have to hand, into one volume. One of the main conspirators is Professor Lumley, her son-in-law, who feels this would be a splendid birthday present from her family, her associates and her friends in the Thoroton Society and the Society of Antiquaries, of which she has been a member for many, many years. But, of course, it will mean that Rosalys will have to put off her retirement for a while – something which she seemed quite pleased about.
Pete Smith, a member of our Council, has volunteered to help Rosalys with this project and we greatly look forward to seeing the completed volume.
The second highlight was that our guest this year, Bishop Paul Butler, the Bishop of Southwell and Nottingham, gave a brilliant after lunch talk on the King James Bible, the four hundredth anniversary of which is being celebrated this year. Bishop Paul spoke of the history of the Bible translations through the 16th and 17th centuries, the contributions made by forerunners to the 1611 version of such men as William Tyndale and Myles Coverdale, and the great work of translation and consolidation conceived and executed under the royal patronage of King James 1. A most enjoyable and informative talk; we are very grateful to Bishop Paul who is, incidentally, a member of the Society and who studied at the University of Nottingham.
Which leads us to the third highlight -another guest, but this rather a silent one. Dorothy Johnston, Keeper of Manuscripts and Special Collections at the University of Nottingham, brought to the lunch one of the two King James Bibles belonging to Beeston Church, but in the care of her department, so that we could all see one of the original copies which is still in existence. A splendid and very large volume, it and its partner had somehow managed to survive in Beeston through many changes, including the rebuilding of the church. The Bible's existence became known through the Thoroton Society: during an early excursion one of the participants spoke to the Vicar of Beeston, also on the trip, of their whereabouts and they were rediscovered in the church tower. You can read about them in an early volume of the Record Series, written by George Fellowes, one of my predecessors as Hon. Sec.
So, quite a day, one to be remembered and talked about for some time. Put 3 November 2012 in your diary. We have a venue booked and, for those who are worried by the escalating cost of the lunch - next year will be very much cheaper, but no less good. And we have a guest speaker already lined up.
(Ed: George Fellowes article in the Record series is reproduced here.)