Events and excursions, Autumn 2013
Little Morton Hall and Cheadle Outing Report
By Alan Langton who lead the day; photography by Josephine Burgess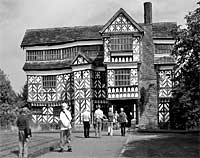 Little Moreton Hall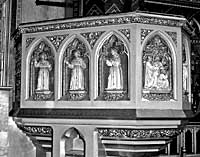 St. Giles, Church, Cheadle
Forty members attended this summer outing of the Society. After a stop for a most refreshing coffee break near Uttoxeter, we travelled through delightful countryside to Little Morton Hall, first begun during the reign of Elizabeth I by the very wealthy local land-owning Moreton family. It is a very fine example of timber-framed architecture, and despite the occasional rather uneven foors and walls, which can encourage a certain dizziness for the visitor, the structure has been signifcantly strengthened and preserved by the careful work of the National Trust.
Jane, our excellent guide, gave us a full hour's tour of the Hall to display examples of the highest quality of Tudor carpentry, plasterwork, painting and glazing in the various rooms, including more recent discoveries of painted panelling and silverware, hidden away from sight for centuries.
Jane's presentation combined signifcant knowledge with gentle humour, and an obvious dedication to this historical gem.
After lunch and the opportunity to enjoy the gardens and grounds, we travelled to Cheadle and the famous Roman Catholic Church of Saint Giles, a masterpiece of Pugin creation. Here we were welcomed by Mr. John Smith who's association with the church as headteacher of the Primary School, and whose obvious love for the holiness of the place, enabled us to hear and view the very special history and treasures of the church. It became clear to us that every part of this Victorian construction demonstrated the bonds between faith and architecture in Pugin's plans and the work he achieved. Not surprisingly, Saint Giles draws many hundreds of visitors, and is clearly a considerable asset to Cheadle.
October Lecture: David Strange-Walker; The Nottingham Caves Project.
Barbara Cast reports.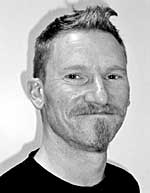 We were very pleased to welcome again Dr. David Strange-Walker, the Project Manager for the Nottingham Caves Project currently being undertaken by Trent and Peak Archaeology, now a part of York Archaeological Trust. David is described as TPA's Archeomatician and Geomatics Manager, impressive job descriptions which belie the clarity of his presentation and talk on this exciting project, which he has project managed since its inception. His enthusiasm for his work was very evident and, indeed, the number of questions following his lecture showed equal enthusiasm for the project which will put Nottingham's caves firmly on the map, in every sense of that phrase.
David informed us that there are 543 caves which are known and probably still a good number yet to be discovered. Most of them cluster around the city centre but stretch northwards up as far as Mansfeld. The rare Triassic Nottingham Castle sandstone is an excellent medium for cave creation: it is easily carved but structurally very strong, and we were informed that incidents of cave collapse are scarce. The list of uses caves have been put to is very long - beer cellars are common, along with storage areas and various different industrial uses such as tanneries and maltings. David speculated that the ability to malt throughout the year because of the constant conditions in caves may well have given Nottingham an advantage over other places. He also reminded us that small medieval factories are rare finds but we have numbers of them here in Nottingham. Caves have been used as dungeons, dwellings, 'lounge' caves, air raid shelters, chapels, stables and garages. Maybe the best known are Lenton Hermitage, known as the Rock Chapel of St. Mary's in 1239 and those at the Castle which are still very visible. Another interesting use we heard of was sandmines - although the sandminer, James Rouse, who created the vast labyrinth under Peel Street in the 18th century died a pauper - so not much money in sand mining! These caves later became Robin Hood's Mammoth Cave, a tourist attraction, and then put to use as a second World War air raid shelter. Those under the Guildhall are kitted out as training for the police and fire personnel. David told us that the most recent caves were created in the 1960s for use as garages in The Park and that another recent use for a local cave was as a cannabis factory!
Dr. Strange-Walker said that caves fall into three categories - passage caves which are used for access - an example of this kind is Mortimer's Hole; caves under properties, the most common kind, generally used for storage; and those cut into exposed cliff - these tend to be the earliest and it is likely that Asser in 893 was referring to this kind when he wrote of the cave dwellings in the settlement of Tigguo Cobauc; such early dwellings could be found at the Castle, Cliff Road and Sneinton. In 18th and later centuries caves also became places for leisure and entertaining, and for carved art. Examples are the 'lounge' caves under Willoughby House built by Rothwell Willoughby, and the Columns Cave in The Park, created for Alderman Thomas Herbert. The technique for the fast automated scanning of the caves was explained, as was the way realistic images were created.
Surveying is undertaken from inside the caves but the images show the caves from outside. So far 76 caves have been scanned. The visuals created by the scanning processes are amazing - flythrough and flyround videos which take you on a rapid tour of these wonderful places which are often under our feet as we walk through Nottingham's streets. Funding for phase 2 is now being put into place and it is hoped that this will lead to access via smart phones and QE code use to caves for which there is no other way to view them. It is also hoped that further caves will be found by a systematic tramping of Nottingham streets and knocking on doors – volunteers wanted!
As well as bringing the Nottingham cave map up to date, recording and scanning as many as possible, David said that the project aims to produce a management document which will identify the most important caves and those most at risk, and to put forward good policies to protect as many of them as possible.
An excellent presentation and lecture from David. How wonderful it is that, at last, the caves are subject to a high-profle project and are receiving the kind of scientifc investigation and evaluation that they so much deserve. As David said, this project builds on the work of others such as the British Geological Survey Register of Caves and of individuals and organisations which have worked tirelessly to excavate and record our caves. Let us hope that it all leads to a greater knowledge and appreciation by local people and authorities and to greater protection in the future.
There is to be a workshop on caves preservation and exploitation shortly - more information when we have it.
Launch of the Nottinghamshire Online Bibliography
Compiled from reports by Adrian Henstock and John Wilson
The new Online version of the Bibliography of Nottinghamshire History was launched in, appropriately, the Thoroton Room at Bromley House Library, Angel Row, Nottingham on 18 September 2013.
In 2002 the Thoroton Society published the first comprehensive bibliography of 8707 books, articles and pamphlets on Nottinghamshire history prior to 1998, compiled by Michael Brook and published as volume 42 of the Society's Record Series.
The Society was fortunate to receive a bequest of £5,000 from the estate of a former member, Dr. Davis, and the Society's Council agreed that this money should be spent on digitising and updating the Bibliography.
The work on the new site has been undertaken by Andy Nicholson with assistance from Corinne Fawcett and the University of Nottingham's Department of Manuscripts and Special Collections.
The Bibliography now includes over 11,000 bibliographical sources for the history of the city and county of Nottingham, and also includes brief summaries of the contents of those publications with more cryptic titles. It will form an invaluable and universally available resource for all types of local historical research.
It is now available on the Society's website at www.thorotonsociety.org.uk At the launch the guests were welcomed by Victor Semmens, chairman of the directors of Bromley House, and introduced by our chairman, Professor John Beckett.
Andy Nicholson provided a demonstration of the site and answered questions.
Would members please check that any local history publications with which they are familiar are included and if omissions are found and with details of new publications, please advise Andy Nicholson at apnicholson@yahoo.co.uk.
Welbeck Abbey Excursion
Barbara Cast reports on the excursion of 10 September 2013
A small group of members visited Welbeck Abbey on 10 September - a small group because the owners limit the number visiting at any one time - several more would have gone had it been possible. There may be a further opportunity in the future.
It had not been possible to visit Welbeck Abbey for many years because of various other uses the house has been put to. However, it was worth the wait. It is an amazing house with an amazing history.
We reached the house by coach to avoid a long walk through the heavily treed and shrubby grounds. Tantalising glimpses of gardens to each side were seen and gardeners were busily at work as if the 5th Duke was still around. It is this reclusive Duke that most people know about, but we were not able to see his tunnels which would have been very interesting.
But to return to the building itself. The former Premonstratensian abbey was surrendered to Henry VIII and by 1597 it was in the hands of Charles Cavendish, second son of Elizabeth, Countess of Shrewsbury. Robert Smythson drew up plans to rebuild Welbeck incorporating the monastic cloisters. Charles' son William, famed for his horsemanship, inherited Welbeck and called in John Smythson to undertake his ambitious building programme. At this time some of the monastic buildings were demolished; the house was extended with a new south-west wing, a west wing and an indoor riding house and stable block. Over the years there have been many alterations to the house - Pevsner is rather uncomplimentary about the resulting appearance of the house, but he wasn't allowed to see all of it. However, inside it is a very different story. Of the earliest fabric, the old abbey buildings, little remains, but you can still visit William's riding school of 1622, which was converted to a library and chapel in 1891, and Smythson's work can be seen in the so-called Bursar's Study. Alterations came thick and fast from the 18th century under the infuence of the widowed Countess of Oxford, Henrietta Cavendish Holles, whose family home Welbeck had been.
The overall appearance of much of the interior is Victorian, work continuing throughout the 19th century, much of it changing the earlier 18th century work. Much has been written about the 5th Duke whose work was substantial and somewhat eccentric. However, after he died it was Lady Bolsover, the new Duke's stepmother, whose hand can be seen on Welbeck. Much of the work at that period was in the hands of Henry Wilson and his realisation of the chapel in what Pevsner calls a Byzantine style is a must-see: it has many well-executed details which refect the current Arts and Crafts movement. The adjoining library has a fireplace which is very attractive Art Nouveau. Externally the 6th Duke engaged Sir Ernest George to undertake reparations following a disastrous fire and this includes a new gothic style wing.
For me, the highlight is something which Pevsner and his informants apparently did not see - the wonderful overmantel depicting St. George and the Dragon: the dragon's body and tail stretch around the little ante-room which leads on to a much more modern corridor connecting the main house to the library and chapel area.
Welbeck is well worth a visit - even a second visit!
Welbeck Abbey from a Valentine's postcard which was posted at Worksop at 6.30 p.m. on 26 June 1907 to an address in Scarborough with the words "Having a lovely time Ethel". Collection of Howard Fisher.
The Annual Thoroton Luncheon 2013
by Barbara Cast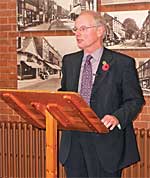 Noel Osborne talks about Phillimore the Company and its founder
Adrian Henstock proposed the toast to the Thoroton Society
The Carriage Court at Kelham Hall was our venue for lunch on 2nd November and we were very pleased to be back in familiar surroundings, although it is a long time since we were there. After a welcome from our Chair, Professor John Beckett, in which he was able to announce that Sir Andrew Buchanan has accepted our invitation to become an Honorary Member of the Society, we were led in the Grace by Alan Langton. The lunch was then served and was very enjoyable; lovely food and served by friendly and courteous staff. After lunch we raised our glasses for the toasts, John Beckett proposing that to the Queen and Adrian Henstock, one of our Vice-Chairs, that to the Society. Adrian, bearing in mind that the 1913 centenary of W. P. W. Phillimore's death was being remembered at this event, focussed on the excellent history of publications produced by the Society from early days, including Phillimore's contribution as a founder member, Honorary Secretary and Vice-president of the Thoroton Society. President Dr. Rosalys Coope responded to the toast and at the same time informed us that she intended to step down as President at the next AGM; she has been an excellent President and we will be sorry to lose her.
We then enjoyed a most interesting talk by Noel Osborne, who was attending with his wife, Sarah, as our guests. He is the Chairman of Phillimore Ltd. and follows in the footsteps of William Phillimore of that company. Phillimore was the subject of his talk and we learned much about his life, including that, had his father not changed the family name, he would have been called William Stiff. Born in Sneinton in 1853, WPP studied law at Oxford and was awarded a degree in jurisprudence. As Noel informed us, his abiding interest was, however, historic documents and their preservation. He was concerned to see the deterioration or destruction of many ancient documents. Active in the work of preservation, the great work for which he is probably most remembered is the transcription and publication of parish records. To ensure preservation on a national scale he advocated the formation of Local Record Offces, and to that end he prepared Bills to be put before Parliament. As well as founding the Thoroton Society he was the founder of several other organisations which dealt with records and related historic matters. He was also a genealologist and he wrote a renowned book in 1887 entitled How to Write the History of a Family. He did, of course, establish the publishing house of Phillimore which published many volumes of great interest to historians.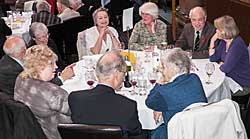 The top table
We also heard about the Company's history since Phillimore's time and what it was doing in the present straightened times.
Following luncheon, the Managing Director of Kelham Hall Ltd., Jonathan Pass, gave members the opportunity to look around this splendid building. Our thanks to him and his staff for their welcome and good service.
Once again we had a most enjoyable, sociable time together. Do make a note in your diaries for next year - 1 November 2014 and we are planning to hold our luncheon at the Forest Lodge Hotel at Edwinstowe.