Society events during Spring 2002
Report on The Maurice Barley Lecture
Saturday 9 March 2002: Trevor Foulds
This year's Maurice Barley Lecture was given by Dr Trevor Foulds using the intriguing title "'This great House so lately begun and all of free stone': William Cavendish's Italianate palazzo called Nottingham Castle".
Dr Foulds' lectures are invariably entertaining and informative, and this was no exception. He used (for the first time, I believe, at a Thoroton lecture) a PowerPoint presentation, i.e. a computer projector rather than a slide projector. Dr Foulds illustrated his talk with a wide range of well chosen illustrations – starting with the all-too familiar castle logo formerly used by Player's cigarettes and progressing through Jan Sieberechts' 'Nottingham from the East'.
These pictures helped in our understanding of the way this fine example of an early baroque palace, completed in 1679, has been altered over the years. In this respect Dr Foulds thoughtfully used enlarged portions of paintings familiar and unfamiliar to show the progression of change.
Over fifty years of indifferent use followed abandonment by the Newcastles of the ducal palace around 1776, before the interior of the building was gutted by fire in October 1831. This 'blackened ruin' was then left to the ravages of the weather, until it was leased to Nottingham Council in 1875 and local architect T.C. Hine was engaged to convert it into the Midland Counties Museum & Gallery of Art.
Hine found the structure of the building had suffered little, and produced a well-executed adaptation of three storeys into two. This inevitably made a floor line visible through the original windows, an alleged insensitivity that was unfairly blamed on the architect.
Dr Foulds' stimulating lecture left us reassured that Nottingham's much maligned Castle is a building of merit and integrity, and perhaps has even more secrets to reveal.
Ken Brand
Annual General Meeting – 27 April 2002, East Markham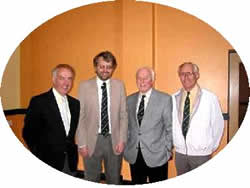 The Chairman and President with Peter Reddish (left) and Robert Creates (right), who were elected to Council at the AGM (see latest news page for their personal profiles).
The 105th Annual General Meeting of the Thoroton Society was held at East Markham Village Hall on 27 April 2002 at 2.45 p.m. The Society's president, Neville Hoskins, welcomed 90 members to the meeting, and the business was conducted by the chairman of the Council, Professor John Beckett. Professor Beckett thanked the officers for their work over the past year, and the editors for successfully producing volume 105 of Transactions, which was distributed to members at the meeting. Gwen Turland, who did not stand for re-election to the Council, was thanked for her work over past years. Peter Reddish and Robert Creates were elected to the two vacancies on Council (one caused by the elevation of Neville Hoskins to President last year). Geoffrey Oldfield thanked members for their congratulatory messages on his recent appointment as MBE. A motion to accept the Annual Report was moved by the President. Muriel Ogle and her team of helpers provided the tea, after which members were shown around the church by Dr Ian MacIntyre and Mrs Margaret Beard. The visit ended at 5.45 p.m. Thanks were also expressed to Mrs Barbara Cast, Hon. Secretary, for organising the day's events.
| | |
| --- | --- |
| | |
| Terry Fry and Geoffrey Oldfield, deep in conversation at the Annual General Meeting (see p 1).profiles). | Neville Hoskins, President, with Dr Ian MacIntyre and Mrs Margaret Beard, who showed members around East Markham Church, following the AGM on 27 April. |
| | Picture left: Editors Sarah Speight and Adrian Henstock handing out copies of Transactions to members attending the AGM. |