Society events and lectures, Winter 2002/03
Annual Luncheon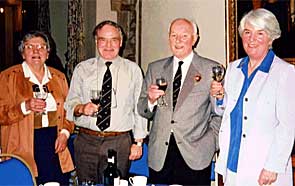 Front left: Ann Hoskins, Adrian Henstock, Neville Hoskins, Valerie Henstock
This year's annual luncheon was held at Holme Pierrepont Hall on 2 November, courtesy of Mr and Mrs Robert Brackenbury. 101 members and their guests attended. After the lunch Mr John Fox proposed the toast to the Thoroton Society and the President, Mr Neville Hoskins, responded. He drew particular attention to the Society's guest on this occasion, Mr Adrian Henstock, in the light of his forthcoming retirement as Principal Archivist to Nottinghamshire County Council. Mrs Valerie Henstock spoke about the representation of the Pierrepont family and the Hall in some of the county's histories. She had found a vivid description in an anonymously published source of 1835, but was able to tell us more about the writer, Matthew Henry Barker, and his years in Nottingham. After the talk, the Chairman of Council, Professor John Beckett, thanked Mrs Henstock, and also the Honorary Secretary, Mrs Barbara Cast, for organising the event, and Wendy Richardson and her team for providing an excellent meal. Mr Robert Brackenbury led a guided tour of the church to complete the afternoon's events.
REPORTS ON LECTURES
12 October: The East Midlands Earthworks Project by Sarah Speight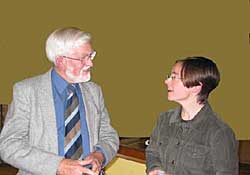 In 1994 Dr Sarah Speight lectured to the Society on the county's early medieval castles (see Transactions, vol XCVIII, 58-70), and since being appointed to a full-time position in the University of Nottingham's School of Continuing Education a couple of years ago she has re-started her work, with the help of a team of volunteers. The early results of her search for the lesser known castles of the East Midlands was presented to members in the first lecture of the 2002-3 session. Dr Speight (pictured here with Dr Chris Salisbury) described how her team work to identify castles, and gave an outline of their method using as her examples Castle Donington, Morley, Castle Bytham, Egmanton and Pilsbury. She estimates that there were more than 200 castles in the East Midlands, of which no fewer than sixty were in Lincolnshire, and that the reason why so few of these have been known about in the past is a mixture of documentation, or, to be more accurate, the absence of documentation, and a stubborn belief that castles were always associated with political issues. Many castles, she argued, were homes, not fortified sites. The project is ongoing, and anyone wanting to join Dr Speight's team should contact her at the University, or by email (sarah.speight@nottingham.ac.uk). This was an excellent lecture by the Society's archaeology editor, and we look forward to more from her as the project unfolds.
John Beckett
9 November: The Nottinghamshire History Lecture.
The Good Old Days: the Victorian Working Class Diet in Nottingham by Denise Amos
This was not a lecture for anyone with a fragile stomach. The thought of contracting tuberculosis from ice cream, or something dire from a rogue set of fish and chips, let alone the difficulties of distinguishing adulterated from safe food, was something with which every Victorian working-class housewife had to grapple. Armed with minimal kitchen tools, if, indeed, she even had a kitchen, and cursed by an inadequate budget which probably forced her to feed the family in a monotonous manner, she was never likely to be much of a chef. Consequently the majority of working-class families in Nottingham relied on bread as their staple diet, supplemented with milk, meat (especially bacon), and other occasional delicacies such as jam on bread! This was a fascinating lecture that brought back all too many childhood memories for many in the audience.
If you missed it, the graphic details will be in the next Transactions!
John Beckett
14 December 2002: Family Names and Local History: Professor David Hey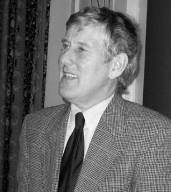 December's lecture had everyone spellbound as Professor David Hey demonstrated how families could be tracked to their original abode by analysing where their namesakes died in the early 19th century. He explained how families had single ancestors from a particular place and that, in 25% of cases (and up to 50% in some areas) the family name would be locative. In his study Professor Hey uses less common names – eg in the research period those named Dyson (son of Dionysia) died in a tight area centred on Linthwaite, Yorks, strongly indicating the origin of that name. Nottinghamshire names include Gabbitas (only 26 died in the chosen period, 10 in Retford and the rest in nearby settlements), Widdowson and Daft; Footitt is from the Lincs/Notts border and Nettleship on the Notts/Yorks border. David amused the Hon Sec by demonstrating that her name (her proudly-midlander husband's family name) originated on the Essex/London border; that the President's long-distant ancestor might have borne the pet form of Osgood (Hoskins); and that the Chairman's name was too common to form part of his study! More about this fascinating area of local history can be found in Prof Hey's book Family Names and Family History.
Barbara Cast
11 January 2003: The Nora Witham Lecture – Thurgarton Priory: the survival of the medieval fabric: Dr Jenny Alexander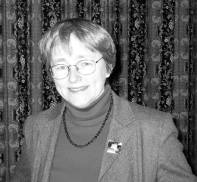 It was a pleasure to introduce Dr Alexander to members again. It is difficult to believe, from the few fragments remaining of Thurgarton Priory, just what a fabulous building it once was. More than a hint is provided by the magnificent West Front, and Dr Alexander assured us there was once a south-west tower with a south aisle behind. This was not always the case in Augustinian priories, eg Newstead, which never had a south aisle, though the arrangement of its West Front fools us into believing there was one. Without archaeological excavation the length of the nave and the entire church, west to east, will never be known, but the builders of the nave were very well informed about the latest in 13th-century design and the solving of problems posed by difficult sites and budget constraints. Dr Alexander traced clear references to Lincoln Cathedral and Southwell Minster, and ranged far and wide from Staffordshire to Northumbria and Scotland for other influences.
Even so, Thurgarton Priory exhibits some uncommon traits that set it apart from the run-of-the-mill design elements available in the 13th century. She also focused on a fabulously ornamented 14th-century ogee niche set in a re-set medieval window, now above the present altar. It still bears traces of original paint and the shadow left by a statue could be discerned. Stylistically it has much in common with the design and carving of the Easter Sepulchre in Hawton church. Architectural history is never easy to convey without recourse to some technical terms, but Dr Alexander succeeded admirably. I for one just loved 'nodding ogee with seaweed' - it all made absolute sense when you saw the illustration. Nottinghamshire lost an architectural gem when Thurgarton Priory was demolished, and the 'Jacobeathan' house built on the site after the dissolution was a very poor replacement.
Trevor Foulds
8 February 2003: The Maurice Barley Lecture - The French Medieval Gentleman at Home: Professor Michael Jones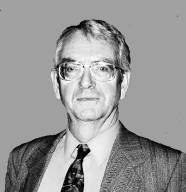 Michael Jones, recently retired Professor of Medieval French History at Nottingham University, delivered the 12th Annual Maurice Barley Lecture. With Mrs Diana Barley in the audience, Professor Jones's subject was one of which Maurice would certainly have approved. Using examples from Brittany, Normandy, the Loire Valley and further south, he illustrated the development of a specifically French seigneurial architecture from the 10th century to the late Middle Ages – eg the wall fireplace appears much earlier in French buildings than in British. The tower may have a defensive function in some buildings in certain locations and at some times but, in general, it is a symbol of knightly status that recurs throughout the period in different formats for different ranks. A telling example was the case of a man classified as a knight by his contemporaries because he owned a chess set! With slides from the humble Breton motte to elaborate half-timbered and towered houses, this was a fascinating journey through the nuances of architectural symbolism and lordly status, illustrating again that the medieval knight is preoccupied with more loftier concerns than his next fight.
Sarah Speight