Events and excursions, Winter 2008/09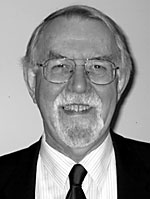 Peter Hoare.
Peter Hoare - The Nora Witham Lecture 10 January 2009 - Bromley house in Context: Nottingham Subscription Library and the Library World of Nottinghamshire Before the Public Libraries Act.
Peter Hoare former Nottingham University Librarian, is an acknowledged expert on the history of libraries. He is also a member of the Board of Directors for Bromley House Library and was thus well qualified to talk on the subject for our first meeting of 2009.
Originally known as the Nottingham Subscription Library, Bromley House was created in 1815, well before the development of the public library system as we know it today and it quickly became the cultural centre for Nottingham society. However, the idea of such a library had much more humble beginnings and our speaker demonstrated the wide variety of libraries which had become established from the early 18th century onwards, illustrated with examples from all over Nottinghamshire. The earliest libraries were usually in religious establishments so it is not surprising that Southwell Minster and the major churches should have gathered collections of books. Less well known, however, are parish libraries, often endowed by local benefactors, such as the small building in Epperstone built in 1840 and intended for use by all villagers. Smaller libraries were often to be found as book clubs in pubs or as circulating libraries in shops catering for other purposes as well. Their proprietors offered such goods as patent medicines, upholstery or varieties of tea. Jesse Boot made libraries a feature of all Boot's branches in later years.
As the industrial revolution took hold there was a growing need for better educated workers and thus artisans' libraries and mechanics institutes came into being. As the talk was being held in the new Nottingham Mechanics, slides of its earlier homes showed its development as a place for meetings as well as classes and a library. Bromley House provided a home for a more cultural level and initially offered a kind of literary and philosophical society with a library, reading room and even a billiard table for use by its subscribers. Now it's anonymous frontage hides a time capsule as one steps through double doors into a different century. It is also unique in having a garden in the very heart of the city.
David Bagley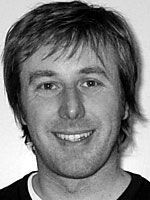 Dr Mark Dawson.
Dr. Mark Dawson, 8 November 2008 - The Nottinghamshire History Lecture: Eating and Drinking in Nottinghamshire Households, 1540-1640.
Dr. Dawson introduced the problems of studying household consumption in the sixteenth and early seventeenth centuries. Referring to earlier research in the archives of the Willoughbys of Wollaton Hall, which revealed details about the household of a gentry family, he outlined the difficulties of extending the study to the experience of ordinary people. Probate records were a fruitful source, but were rare during this period for the Archdeaconry of Nottingham. However, richer records from other local ecclesiastical jurisdictions (peculiars) enabled him to analyse a sample of inventories from four contrasting communities - Southwell, Misterton, Cropwell Bishop and East Drayton. Although a minority of parishioners featured in the probate records, items listed in inventories could be used to suggest both common and unusual aspects of Tudor and Stuart consumption. This was inevitably less than a full picture, as daily consumables were not generally relevant to the record, and some examples probably indicated commercial interest and referred to stock in hand.
With supporting illustrations from a variety of sources and historical studies, Dr. Dawson presented a fascinating account of the diet and domestic habits of different households in the selected communities. The theme was extended through a wealth of evidence about utensils listed incidentally in the accounts, which allowed a picture to emerge both of the goods owned by different people and the way in which households stored, cooked and consumed their meals.
Dr. Dorothy Johnson
Professor John Morehen.
Emeritus Professsor John Morehen - 13 December 2008: John Blow, Son of Newark: A Tercentenary Tribute
As Baroque music is a passion with me, it was my great personal pleasure to chair the lecture given to the Society by Professor Emeritus John Morehen, sometime Professor of Music at Nottingham University. His lecture was unusual in that Professor Morehen is not an historian but a renowned musician and acclaimed musicologist who specialises in Tudor and Jacobean music and Italian renaissance organ music.
His subject was John Blow (1648-1708). Blow was a local lad baptised at Newark on 23 February 1648 and he probably received his early music training at the Thomas Magnus School in Newark. He must have shown exceptional musical abilities early on as he was 'kidnapped' for his singing voice in 1661 by Henry Cooke, master of the Children of the Chapel Royal, to be trained as a chorister in the Chapel Royal where he received a very thorough musical education.
Blow was highly regarded during his lifetime and beyond. He held all the important musical posts in the Capital along with court appointments. Illustrated by musical examples, Professor Morehen succinctly analysed for us Blow's substantial musical output, regrettably, even today, much of it not available in modern editions or performed.
Blow was a gifted, intelligent and innovative composer but he had largely to conform to a conservative English musical tradition that was some forty years behind the developments of the nuovo musiche (new music) then the standard musical language of the modern European centres of culture such as Venice and Paris. This was very apparent in much of his vocal and organ music for the church. Nevertheless, Professor Morehen showed that Blow was well aware of and had absorbed many modern trends and ideas, particularly those coming out of France. For instance, his opening music example, the overture in the French style of Blow's small-scale opera 'Venus and Adonis (1681), which is the earliest English opera, showed that Blow fully understood the form and nuances of the French overture. Similarly in Blow's church music. In style and form much of it harked back to English church music of the early 17th century, yet Blow was capable of writing stunning compositions in the new-style church music, unfamiliar in England at the time, which were called 'symphony anthems' heavily influenced by the Grand Motet then much in favour at the French court. The 'symphony anthem' opened with an instrumental French overture, followed by alternating and combined sections for a small group of soloists and the chorus, the petit choeur and grand choeur of the Grand Motet.
Thoroton members were surprised and excited by Blow's 'symphony anthem' 'I was glad' (Psalm 122); indeed members afterwards demanded to hear the entire anthem.
Professor Morehen, with calm assurance and authority, expertly and effortlessly guided us through unfamiliar territory. It was a fitting celebration of John Blow's tercentenary and much appreciated by members.
Professor Morehen and I could not answer three questions put by the audience. I can report that John Blow left a will proved 14 October 1708 (TNA, PROB 11/504). Blow married (4 September 1674) Elizabeth, daughter of Edward Braddock, master of the choristers of Westminster Abbey where Blow was the organist and they had five children, but only two daughters survived him. When Blow went with Wlliam III to Holland in 1691 he was wearing livery as a royal servant but I am as yet uncertain as to what form this livery took.
Dr Trevor Foulds