Events and excursions, Winter 2011/12
SATURDAY, 12 NOVEMBER 2011. THE NOTTINGHAMSHIRE HISTORY LECTURE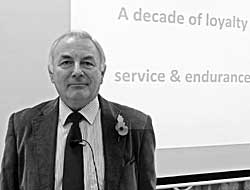 Dr David Nunn.
DR. DAVID NUNN: TRENT BRIDGE SCHOOL 1909-19: A DECADE OF LOYALTY, SERVICE AND ENDURANCE
Trent Bridge School opened in 1909 and after only five years it was caught up in the chaos of the First World War. At Easter 1915 it was sequestered to become a military hospital, and the children transferred to Queen's Walk on double shifts', whereby one group of children used a school in the morning and another in the afternoon. This was unsatisfactory as a way of educating the children, who spent their 'off' time participating in the war effort through handicraft classes to contribute to war production, supporting charities, cultivating allotments, and attending the 1916 Patriotic Fair.
Since the school opened only in 1909 few of the children were old enough to serve in the war, and David's real heroes were the four members of staff who enlisted. He was able to tell us something of their families and background. Bernard Courteney Laws died at the front, but both Ernest Smeeton and Harry Beedham returned to the school after war service.
With several ex-pupils of the school in the audience it was particularly poignant that David Nunn gave this lecture on Armistice weekend.
John Beckett
SATURDAY, 10 DECEMBER 2011. THE NEVILLE HOSKINS LECTURE.
DR. CLIVE CHEESMAN, RICHMOND HERALD, COLLEGE OF ARMS: EARLY CORPORATE IDENTITY AND HERALDRY IN NOTTINGHAMSHIRE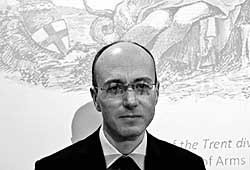 Dr Clive Cheeseman.
Dr. Cheesman opened his presentation by outlining his own connections with Nottinghamshire, and therefore his suitability as a Thoroton speaker, through grandparents and great-grandparents who had lived in Thurgarton but moved to London in search of work. He also outlined the historic importance of the River Trent as the traditional boundary between 'Northern' and 'Southern' England when Royal households and their servants, such as the Heralds, needed to split the country for administrative purposes.
The College of Arms, through its Heralds, is the historic custodian of all arms granted to people and, more recently, corporate bodies as a means of identification. Historically, arms were personal and a graphical means of identifying knights and their supporters on the battlefield. The oldest recorded grant of arms to a corporate body was to the Worshipful Company of Drapers in 1439. This was soon followed by many of the other historic livery companies, mostly based in London, but, unfortunately, none in Nottinghamshire.
The most familiar use of heraldry by corporate bodies is the use of Civic Arms by city and town councils, the two main examples in Nottinghamshire being the City of Nottingham and the town of Newark. The Arms of the city were granted upon achieving city status and the design was derived from devices used in the Borough Seal up until that time. This idea of deriving Arms from traditional seals became a relatively common practice amongst corporate bodies, some of the best examples being those of religious houses such as Newstead and Thurgarton. Similar bodies often used seals, later translated into Arms, that reflected their patrons or founders, hence the apparent overlap with some historic family Arms.
One of the busiest periods for the granting of Arms to corporate bodies was during the Heralds' visitation of 1614, when they toured the country weeding out duplicate or unauthorized uses of heraldic devices and encouraging the registration of Arms - at a cost - to prevent usage by others. As part of their work on this tour the Heralds also encouraged the creation and recording of new Arms from historic seals in use at the time, thus adding even more to their income! From this work came the later practice of Bishops impaling the family Arms of benefactors with those of the house or abbey with which they had become associated and creating many of the famous Diocesan Arms that we see today.
Dr. Cheesman closed by emphasizing the diversity of Arms now in use throughout Nottinghamshire with the County and City Councils, most District Councils and even some Town Councils having Coats of Arms but many of whom now choose not to display them, favouring instead a simple modern badge, often using one of the devices from the Coat of Arms.
This interesting presentation will have left many members intrigued and wanting to explore the background of familiar emblems and badges so often seen in very mundane locations such as the sides of buses, taxis and refuse lorries. Neville would have been very satisfied with this excellent presentation featuring one of his favourite subjects.
David Hoskins
SATURDAY, 14 JANUARY 2012. THE NORAH WITHAM LECTURE
GORDON TAYLOR: WILLIAM BOOTH 1829-1912. FREEMAN OF NOTTINGHAM - CITIZEN OF THE WORLD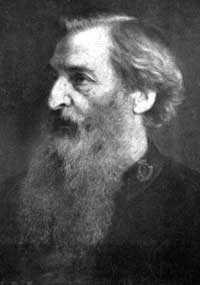 William Booth.
Gordon Taylor, retired archivist for the Salvation Army, gave an information packed talk to the Society. It was unfortunate and unsettling for our speaker that Network Rail made one of its major interruptions to people's lives on that day! But the talk went on, albeit rather late.
William, who was to become one of the most prominent men of the 19th and early 20th centuries, was the son of a Derbyshire couple, Samuel and Mary Booth, and was born at 12 Notintone Place, Nottingham and christened at St. Stephen's Church, Sneinton, on Palm Sunday 1829. He spent most of his young life in Sneinton, excepting the six years that he lived in Bleasby. Mr. Taylor gave us a picture of William as a young man who described Goose Fair as a carnival of delights and who wandered by the River Trent and through the Meadows with a rod in one hand and a book of poetry in the other. What education he had was gained at the Halifax Place Academy (now the Lace Market theatre). The cost to be a day pupil was four guineas a year and William's school career ended when the family fortunes declined. He was then apprenticed to a Unitarian pawnbroker. His father died when he was fourteen.
Not liking the formality of the Church of England, William started going to the Wesleyan Chapel and said that it was his 'heaven upon earth'. He was impressed by a visiting revivalist preacher and inspired to become one himself, being converted and starting to preach amongst the poor whilst still in his teens.
Mr. Taylor told us that William's aim as a very young man, was self-improvement. Having been 'let go' once his six year apprenticeship was over, he was unemployed for a year and decided to try his fortune in London. Again he went into the pawn broking trade but soon also became involved with various groups of nonconformists. During this time he met and became engaged to Catherine Mumford who was to have such a profound effect on his life, encouraging him to study and helping to further his religious career. He was trained as a potential Methodist minister but found his true calling in revivalist campaigns and itinerant preaching. He found popularity wherever he went; for example he preached to great crowds in Parliament Street Chapel. Catherine shared his ministry when child-bearing allowed, and when he was ill she would step in and preach on his behalf - she also provided William with sermon outlines. Their joint work took them to Nottingham for a while and then to various parts of the country where their following continued to increase. However the style of some of their colleagues was not popular with everyone!
We learnt that the Christian Mission, as it was called, had its first headquarters in a former pub in Whitechapel. The Mission became the Salvation Army in 1875, the Volunteer Army being an earlier name suggestion. William became the Army's first general and all other officers adopted quasi-military titles. The Foundation Deeds state that women would have equal status in the Salvation Army.
The Booths continued to travel around the country, with many visits to Nottingham, including a 'Council of War', when Catherine presented flags to Basford, Radford and Leicester. In 1886, William came to Nottingham by train and commented, '125 miles in two and a half hours, what would our forefathers have said to that?" There were also successful trips abroad for William or his Pioneers.
William never felt he could do enough for the poor. The Salvation Army Mission Hall became a food and shelter hall. He formed a colony in Hadleigh, Essex, to give agricultural training to unemployed people. There were also a city colony, hostels and women's rescue homes.
William Booth was given the Freedom of Nottingham in 1904, and there were other honours bestowed on him. He died in 1929.
Gordon Taylor' talk was most interesting and richly illustrated and left us wanting more.
Barbara Cast