Recent events and lectures, Autumn 2004
Annual Luncheon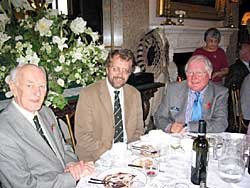 Annual Luncheon: from left to right Neville Hoskins, John Beckett, Brian Howes.
This very popular event in the Thoroton calendar was quickly sold out: dining in such splendid surroundings as Belvoir Castle was an experience not to be missed – the luncheon was held in the magnificence of the State Dining Room. The food was excellent with a distinct Vale of Belvoir flavour, the company as ever was in top form, and the after luncheon speaker, Brian Howes (Head Guide at the castle) gave an entertaining and enlightening talk on its early history and the dynasties and political intrigues which had shaped it. The Thoroton and Nottinghamshire connections with Belvoir and its family were explored by Alf Bowley, who proposed the Thoroton toast, and by the President, who always adds the Hoskins touch to any event. These connections were further touched upon during Brian's talk. After the meal members had the benefit of a guided tour: it was a great privilege to have the place to ourselves and to learn more from the enthusiastic guides about its inhabitants – past and present – its rooms, furnishings and art works. This was a truly memorable Annual Luncheon – we shall have to find something to match it next year!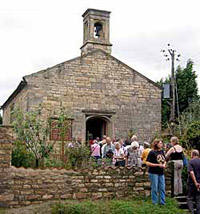 The Chapel of St Edmund-in-the-Street.
REPORTS OF RECENT LECTURES AND EXCURSIONS
4 September – Sacred Sites of North Lincolnshire: David Marcombe & Kate Holland.
On a beautiful September afternoon Dr David Marcombe and Kate Holland showed us two sites considered to be 'central places', that is, places which have been centres of administration, justice, religion, trade and charity for many centuries. The history and archaeology of such places indicate they were of great importance. Dr Marcombe took us first to the chapel of St. Edmund in Spital-in-the-Street [pictured right]. (The hospital on Ermine Street.) The area had almshouses (dating from 1390) in Spital Green, the Quarter Sessions houses (built in 1592), the old coaching inn (now derelict) from 1680, and the chapel itself (now lovingly restored by Dr. Marcombe and his family). The area outside the chapel boasts a physic garden designed by Joe Nicholson, and adjacent is an orchard being re-planted with old varieties of apple and pear trees.
Kate took us next to Glentworth with its interesting small church and wonderful memorials to Sir Christopher Wray and his family, who had attempted to undermine the chapel of St. Edmund and the hospital foundation. After an excellent tea we visited the magnificent church of St. Mary's, Stow-in-Lindsay. This is an extraordinary cathedral-like structure which, while Saxon in foundation was enlarged in 1073 by Remigius, last Bishop of Dorchester and the first Bishop of Lincoln. He turned Stow into a monastery, but this was changed back by his successor. Many thanks go to David Marcombe and Kate Holland, for a most fascinating and stimulating day. Penny Messenger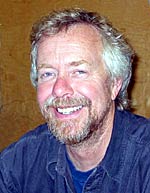 24 September – Special Celebrity Lecture with Julian Richards
It was an eventful evening with many more attenders than expected! Julian Richards, an archaeologist best known for his BBC2 series "Meet the Ancestors" (and not to be confused with the other Julian Richards at York University), spoke of his Nottingham upbringing and education, and the work which fuelled his interest in archaeology. He read Archaeology at Reading and got his first job in Berkshire, where he met his first skeleton entangled in the roots of a tree. Very aware that this was a person, his fascination with discovering more about people of the past grew, and the idea of "Meet the Ancestors" began to take shape.
Making such programmes is an extension of Julian's love of teaching. He stressed that the excavations featured were all already underway: nothing was done specially for television. Julian spoke of the fascination people had for burials, the fact that there were so many around, and that they were constantly being dug up. "The past is a fascinating place peopled by fascinating people" he said, explaining that he felt privileged to be able to convey to audiences that these remains were real people with real lives, and also that an understanding of the past can help us to understand the future. This excellent lecture was greatly enjoyed by all who attended. We thank the University of Nottingham for providing the venue for this joint venture. Barbara Cast
9 October: Peter Connelly – 'The Archaeology of Besthorpe Quarry: A Prehistoric and Romano-British landscape in North Nottinghamshire'
It is a daunting challenge to bring to life a series of ditches and gullies to an audience of historians. Fortunately, Peter Connelly ably guided us through the development of a Trent-side landscape from the Neolithic to the late Roman period. Politically, Besthorpe represents archaeological best practice with its combination of research and training funded by quarry operators LaFarge Aggreggates. It is a site of continuing relevance, illustrating the impact of climate change on the community in the later Roman period. The arrival of a wetter climate sees ditches grow in size and corn ovens appear to dry off the crops. By the late 4th century AD the occupants had given up, pushed onto higher ground by the devastating floods that continue to hit the site today; Peter highlighted the 1795 event that saw the Rivers Trent and Fleet cover the area with 3 metres of water.
But what happened here? Peter presented a story of cattle farming moving from subsistence into big business. This was a meeting place of animals and animal handlers, a processing point for the wholesale buying and selling of herds. Keyed into the growing Romanised population represented by Lincoln, Brough, Ad Pontem, the Fosse, etc, Besthorpe facilitated the dietary needs of the carnivorous east midlanders. But this was no great killing-field: although butchery took place, Besthorpe was a distribution point rather than an abattoir; and it is cheaper to redistribute your cattle if they are still walking. This was the story of middle-men, entertainingly told by a speaker used to conveying complex detail. This important work reinforces the seminal role of the Trent in our region's development. With it continuing to 2012, we can expect many more insights from the Manchester team. The Society has a visit scheduled to the site for July 2005. Do go – you will overwhelmed by its scale, and by the emerging narrative of agricultural enterprise. Sarah Speight