Recent lectures, Spring 2001
10 February: The Nora Witham Lecture: The Southwell Workhouse Project – Susanna Smith
The Thurgarton Incorporation Workhouse was commissioned by the Rev J T Becher in 1824 to centralise facilities for the care of the poor in the Diocese of Southwell. Becher was one of the pioneers of the Poor Law Amendment Act of 1834 which introduced the system whereby the able-bodied poor who had formerly subsisted on outdoor parish relief now had to live in the Workhouse under a regime which 'encouraged' activity in seeking work.
Becher's Workhouse was the prototype for many throughout the country, and is thus particularly important. This was recognized in 1996 when a Royal Commission for Historic Monuments survey highlighted it as one of only six suitable for preservation. The National Trust purchased it with emergency funds, in the hope that a Lottery bid would later be successful in ensuring its preservation.
Susanna Smith was appointed to delve into the mass of documentation available and encouraged to seek recollections of the Workhouse from former inmates and their descendants. Her lecture provided a graphic account with extracts from the Government Inspector's reports of the time and from written and oral accounts from those who spent time both at Southwell and in similar establishments.
Over the last two years extensive archaeological investigations and conservation works have been undertaken to restore the building, which should open to the public in 2002. Susanna showed examples of the work involved and the meticulous attention to detail. She described how the Workhouse will be presented, mainly using audio guides to reproduce the atmosphere of life inside and its harsh regime. A visit to Southwell Workhouse in 2002 is highly recommended and will prove a valuable educational experience for all ages. Warm thanks went to Susanna for providing such a lucid and detailed description of the National Trust's latest jewel in the crown.
David Bagley
10 March: The Maurice Barley Lecture: Mud and Stud Houses in Lincolnshire – Rodney Cousins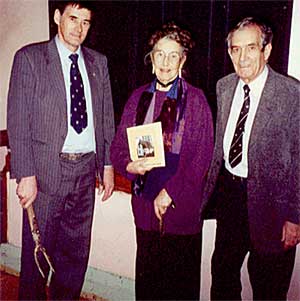 From left to right: Rodney Cousins, Diana Barley, Ken Brand.
Rodney Cousins was formerly Assistant Curator of the Museum of Lincolnshire Life. He was an excellent choice for the lecture - not only was he one of Maurice's many weekend local history students, he had a good, strong and humorous style.
Rodney gave a brief geographical and historical survey of mud and stud buildings. English regional styles include "cob" in the south-west and "wichert" in the Chilterns - rather like wattle and daub without the wattle. The buildings have a slender box frame construction but use less timber than normal, and roofs were usually of thatch. The mud needs sufficient lime to enable it to set for building purposes. Most dwellings were modest, inhabited by farm workers or labourers; occasionally they formed part of a manor house, but examples of grander houses are rare.
Much of Rodney's lecture described the identification, subsequent dismantling and re-erection of a derelict mud and stud house at Withem, Lincolnshire. A Community Action team from Skegness carried out the work after the building was carefully measured and drawn by the County Architects. The mud was trampled down into some 250 fertiliser bags prior to transportation. Lacking advice from his own county, Rodney turned to the Nottinghamshire Building Preservation Trust, whose representatives duly arrived: those noted vernacular enthusiasts Maurice Barley and John Severn.
The house was rebuilt on a concrete raft. With no services and no clearly defined future use, its building type was difficult to classify. To reconstruct accurately, known mud and stud houses were visited, wallpaper prodded, carpets lifted, and an amount of tramping around roof spaces was necessary. During the re-erection, six other mud and stud houses were lost. To date around forty Lincolnshire buildings have been restored whilst three are "at risk". Rodney then demonstrated how often the original features, especially the roofs, were hidden under later additions or different materials; and gave the location of mud and stud structures in Lincolnshire.
Ken Brand