Recent Society events, Winter 2001/02
Commemorative tree planted at Flintham Hall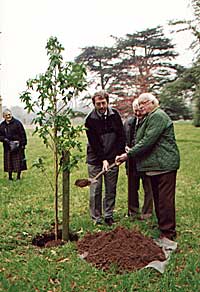 On 17 November last a group of Thoroton members and guests assembled at Flintham Hall to plant a tree commemorating Miles Thoroton Hildyard's forty years as president of the Society. The tree, a Liquidamba styraciflua, or sweet gum, was planted by Miles (with a little help from Neville Hoskins and John Beckett – see picture left) just to the west of the main entrance to Flintham. After the ceremony, Miles kindly entertained the visitors to a splendid, four-course lunch in the Hall. Neville Hoskins proposed a toast to Miles, and John Beckett proposed a toast to Rosalys Coope who had, a few days previously, celebrated her 80th birthday. Miles then led a brief tour of the Flintham Conservatory, and a few hardy souls walked around the gardens.
Before the party broke up, grateful thanks were expressed to David Rowbotham for his work in preparing the meal. Particular interest was shown in the Thoroton horn that David had depicted in icing sugar on the rather sumptuous sweets.
| | |
| --- | --- |
| On the right the Society's President, Neville Hoskins, watches as Chairman John Beckett helps to plant the tree, under close supervision from Miles Thoroton Hildyard. Among those looking on are Adrian and Valerie Henstock, Jean and Joe Nicholson, Michael Riley, Barbara Cast, Christine Beckett, Rosalys Coope, Philip Jones, Diane Barley and Ann Hoskins. Flintham Hall is in the background. | |
Nottinghamshire Living History Archive
The second Showcase for this three year project was held at Nottingham Forest Football Club on 24 November 2001. The Lord Mayor of Nottingham, Councillor Roy Greensmith, presented certificates to second round awardees who had completed their projects. Many had displays of their work, including CD Roms, videos, exhibitions and books. Among them, of course, was Jean Nicholson, our Programme Secretary, who has produced an excellent study of the north Nottinghamshire village of Everton. Our congratulations go to Jean and to the other awardees for producing another collection of excellent studies; and also to the project staff, Denis Hill and Samantha Holgate-Davey, for their hard work in bringing so many of these outputs to completion. The picture shows Jean Nicholson receiving her award from the Lord Mayor. ( John Beckett)
St Ann's Revisited
More about Jean! Jean and Joe Nicholson, with the help of their three children and granddaughter Hannah, mounted an exhibition at the Nottingham Central Library of photographs taken by members of their family of the St Ann's District. The exhibition entitled 'A Photographic Journey in Time 1901-2001' was opened on 13 January 2001 by the Lord Mayor of Nottingham Cllr Roy Greensmith, and ran until March 2002. (John Beckett)
REPORTS OF RECENT LECTURES AND EVENTS
8 December 2001 – 'The Nottinghamshire Pig' by Steph Mastoris
This was a delightful talk on the relationship between pigs and humans from medieval times to the present. Keeping a pig was an important source of income for poor people: 'everything used but the squeal'. In some cases pigs were kept communally and rooted through forests with permission for a payment to the owners. We were shown some fascinating slides including a delightful picture of swineherds from the Duc de Berri's book of hours, and a stone carving of a pig eating acorns at the Chapter House in Southwell. Slides showed late 19th and 20th century pig owners with the pig's carcass (killed at the time of the first frosts). After this the housewife took over. Pig keeping declined in the 1930s but revived during World War II. The talk produced many questions and anecdotes from the audience, who remembered grandparents keeping pigs. Altogether this was a most enjoyable and fascinating insight into an aspect of rural life hitherto unregarded. The afternoon concluded with shortbread pigs and a hot punch, both pronounced delicious by all present. (Penny Messenger)
12 January 2002 - 'The Tickhill Psalter' by John Fox
John Fox's talk on the Tickhill Psalter delighted a large audience. John explained that the Psalter did originate in Nottinghamshire and not South Yorkshire, as the name might suggest. It was written by John Tickhill who was Prior of Radford (Worksop) Priory, 1303-14.
John showed a fascinating series of slides illustrating the beautiful workmanship and the range of narrative illustrations. There are 482 cartoon-like illustrations of scenes in the life of David and Solomon. The Psalter is a rich source of information about life in the 14th century with some 50 varieties of foliage illustrated: does this make it the earliest Nottinghamshire flora?
John's enthusiasm was reflected by the questions and discussion after the talk. For further reading, see the articles by John in Nottinghamshire Historian Autumn/Winter 2000 and Spring/Summer 2001, or The Tickhill Psalter and related manuscripts illustration sin England during the early Fourteenth Century by Donald Drew Egbert. The Psalter is now in the New York Public Library. (Jean Nicholson)
9 February 2002 - The Nora Witham Lecture: 'The Smug and Silver Trent' by Nicholas Alfrey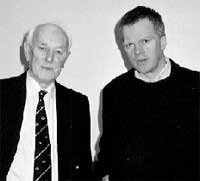 Last Autumn Nicholas Alfrey curated the magnificent exhibition 'Trentside' at the Djanogly Art Gallery, University of Nottingham, covering most of the length of the river Trent. For his lecture he concentrated on paintings and photographs with particular relevance to the Nottingham area. Illustrated by a series of first class slides, Mr Alfrey dwelt on various aspects such as how the Trent has been poorly represented in topographical literature and in British landscape art. Some owners had declined to allow their paintings to be removed to Nottingham for the exhibition, but fortunately a photographic record had been made, allowing a comparison between the two 17th century Siberechts, 'Nottingham and the River Trent' and 'Nottingham from the East' (attributed). One particularly interesting illustration was Arthur Spooner's 'The Nottingham Boat Club 1894', which the Club was obliged to sell in 1986. The original's whereabouts are unknown; a copy hangs in the clubhouse. The speaker also showed recent photographs including a striking aerial view of Clifton Bridge (1971) which was contrasted to earlier paintings of Wilford as a secluded retreat. With illustrations from the late 17th to the late 20th centuries, we saw that the Trent had not been completely neglected; and that an interest in the artistic representations can add a new dimension to the study of local history. (Neville Hoskins)